MLSE goes all out with Toronto FC championship rings
Sportsnet.ca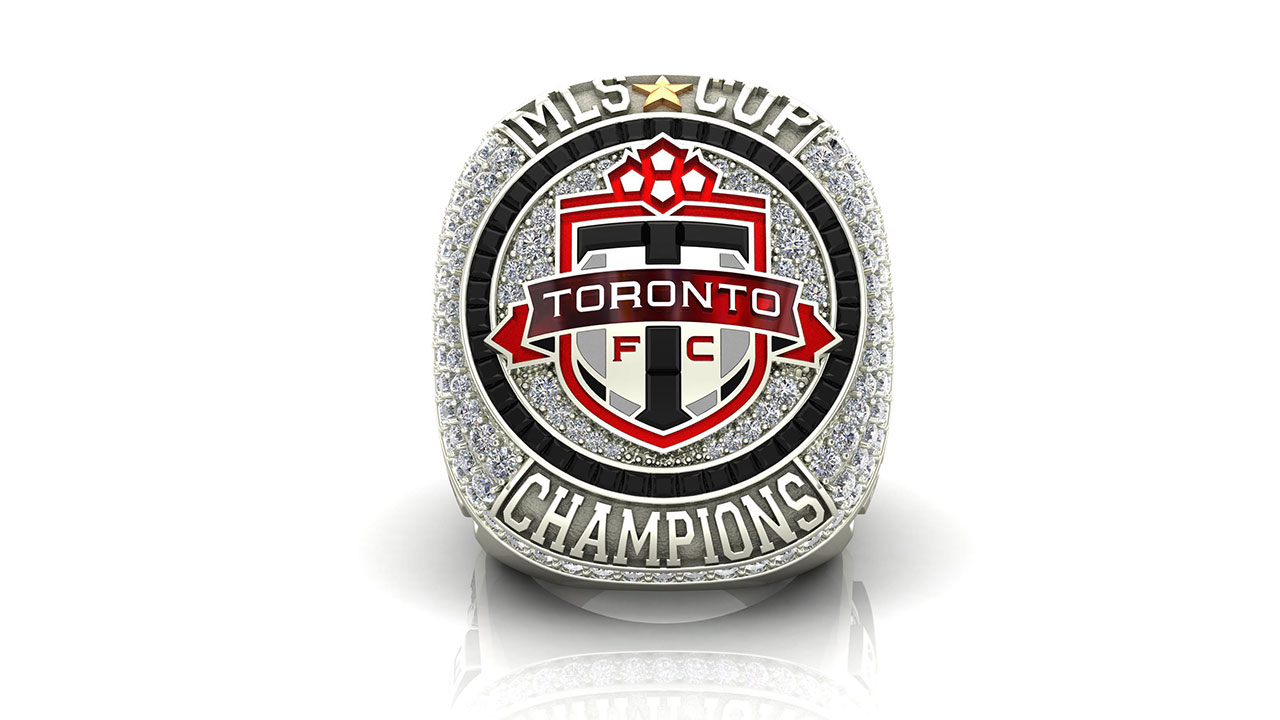 MLSE goes all out with Toronto FC championship rings
TORONTO — It's been a rough MLS season so far for injury-ravaged Toronto FC. But there were smiles all round this week as players collected their championship bling, a sparkling reminder of their record-breaking 2017 campaign.
The impressive rings look like the red TFC emblem has been dropped on a icy bed of diamonds.
"We're really happy with them. I think it's brought an MLS ring to a new level," said team president Bill Manning.
"It was something we wanted the players to be proud of," he added.
More than 170 diamonds, spread on white and yellow gold, with a string of individual touches, lift the giant rings out of the ordinary.
The jewelry was made by Baron Championship Rings of Tecumseh, Ont. The company specializes in championship bling, having created rings for the Cleveland Cavaliers, Los Angeles Sparks, Hockey Canada, Toronto Argonauts, London Knights and Raptors 905 among others.
The diamonds came from Houston-based Uptown Diamond.
Judy Tanenbaum, wife of Maple Leaf Sports & Entertainment chairman Larry Tanenbaum, played a major role in helping design the rings, said Baron sales director Arthur Horton.
Eighteen players, included the now-retired Benoit Cheyrou, plus team officials were presented with the rings at a private luncheon Monday at Casa Loma, a majestic castle home completed in 1914 by Sir Henry Pellatt that now serves as a tourist attraction and special events host.
Each player got a personalized package complete with ring, picture of the MLS Cup trophy with the TFC logo on it and their name and what looks like a bottle of Armand de Brignac Ace of Spades Brut Gold Champagne, which retails for $649.95 at the LCBO.
The rings have the red-garnet-coloured Toronto FC emblem in a black circle on the front, framed with the words MLS Cup on top and Champions below.
The player's name and number — complete with diamond — are on one side. The Philip F. Anschutz Trophy and team motto "All for One" adorns the other.
The team's 20-5-9 regular-season record and MLS record 69 points are inscribed on the inside of the ring. There are three stones stamped into the bottom of the ring to mark the three trophies won: the MLS Cup, Canadian Championship and Supporters' Shield.
Baron says it takes 10-12 weeks to make the rings. The process starts with a 3-D modelling program, which becomes a wax model that is casted.
The MLSE order called for 795 rings, with the exact bling varying over five different tiers.
"Every (MLSE) staff member is getting one," said Manning, who already has an MLS championship ring from 2009 with Real Salt Lake and a USL ring from 1999 with the Minnesota Thunder plus an NFC Conference champions ring in 2004 with the Philadelphia Eagles.
That includes the soccer team's "go-to babysitters" and BMO Field security.
"When we say all for one, it does mean everybody," said Manning
The staff rings are slated to be handed out Thursday.
The TFC boss declined to say how much the player rings cost.
"But I'll tell you that we as a company invested a lot of money not only for the players but our staff," he said.
Suffice to say you could probably buy a modest economy car with the cost of the deluxe players' ring.
The TFC players were quick to show off the new bling on social media. Striker Jozy Altidore posted a photo of himself wearing the massive rink on his little finger.
"I would pinky swear, but my pinky ring is too big," he wrote.
Italian forward Sebastian Giovinco posted a close-up of his ring-wearing hand with the caption "The Lord of the Ring."
"Got a Ring!!!" tweeted defender Chris Mavinga, with several shots of his new jewelry.
Baron Championship Rings is a family affair, founded some 30 years ago. Richard Baron started with a Toronto jewelry store that did class and other rings but the business expanded into championship rings about 10 years ago.
Baron and Jostens, based out of Minneapolis, are the big players in championship bling. Jostens did the rings for the Houston Astros, Seattle Sounders, Pittsburgh Penguins, New England Patriots and Chicago Cubs to celebrate their recent titles and have partnered with the reigning NFL champion Philadelphia Eagles.
By the Bling
A look at the Toronto FC player championship rings:
— Each one has an approximate 3.30 carat weight.
— The ring includes 132 round brilliant diamonds, 42 princess-cut black diamonds, 2 custom-made black onyx stones (for the T logo), and a red garnet stone (with Toronto encrusted in it).
— The ring is 10-karat white gold ring with a 14-karat yellow gold star at the top.
— Each rings weighs about 80 to 85 grams (depending on finger size), measuring 30 by 34 millimetres.